Bunion Complications:
If you're unlucky enough to suffer from bunions, you know what a profound influence they can have on your daily life. Not only do bunions cause pain while walking, exercising and performing other activities, but they can also make you feel self-conscious about displaying your feet in open-toe shoes.
When left untreated, bunions can lead to other complications as well. If you're suffering from foot bunions, it's important to see a podiatrist before the condition worsens and you develop other complications associated with bunions.
Director Dr. Jamshidinia and the staff of La Peer Health Systems' Bunion Center of Excellence are committed to resolving your foot problems and preventing new complications from arising from existing conditions. If you're suffering from bunions, don't hesitate to make an appointment with a board-certified podiatrist by calling (888) 552-9732 today.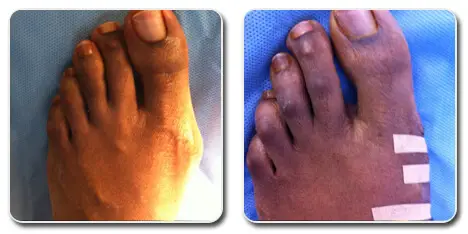 Untreated Bunions
Bunions tend to worsen with time, and if the fluid sac covering the joint in question becomes inflamed, the bunion will likely become more painful. Known as bursitis, this condition may further limit your ability to perform desired tasks like walking or running. For this reason, it's important to seek treatment for bunions when they are still in their early stages.
As bunions remain untreated, other foot-related complications may occur. Because the bunion often rubs against the shoe, patients may develop corns, calluses and other skin irritations. Greater pressure from the big toe on the other toes of the foot can also result in ingrown toenails.
In severe cases, bunions can lead to hammer toe, which is a condition in which an enlarged middle toe joint causes the toe to bend in a downward direction. Over time, patients may even lose feeling and mobility in the foot.
Seeking treatment for your bunions when they are in their early stages not only reduces your risk of encountering these potentially debilitating complications, but it also may prevent you from needing more invasive treatments.
If you are suffering from a painful bunion, don't hesitate to schedule an appointment at the Bunion Center of Excellence today.
Recommended Use:
FAQs about Bunion Complications:

Q: Can untreated bunions change the shape of my foot?
A: Yes! If left untreated, a bunion may eventually alter the overall shape of your foot, increasing the width where the bunion protrudes.
Q: Will I have trouble finding shoes?
A: Over time, bunions can widen the foot so finding comfortably fitting shoes is more difficult.
Recommended Use:
Q: What will happen if I develop bursitis?
A: If the bursa, or fluid sac over the affected joint, becomes inflamed, you may experience severe pain and even an inability to walk.
Q: Will the doctor definitely recommend surgery for my bunion?
A: Not necessarily. When a bunion is in its early stages, doctors have more options for treatment. That's why it's important to see a podiatrist right away.
Q: Why are bunions especially dangerous for diabetics?
A: When bunions become inflamed, ulcers can form. Ulcers pose an exceptional risk for patients with diabetes, as these individuals may have trouble detecting the ulcer and infection.
Q: What are bunion complications?
Bunion complications refer to the problems that can occur after a bunion has formed. These complications can include pain, discomfort, difficulty walking, and an increased risk of developing other foot conditions.
Q: What are the potential long-term consequences of untreated bunions?
If left untreated, bunions can lead to more severe foot problems such as hammertoes, metatarsalgia, and arthritis. In some cases, severe bunions may require surgery.
Q: Can bunions cause chronic pain?
Yes, bunions can cause chronic pain, especially if left untreated. The pressure on the bunion can cause the surrounding tissue and joints to become inflamed, leading to persistent pain.
Q: Can bunions affect mobility?
Yes, bunions can affect mobility. As the bunion grows larger, it can cause difficulty in walking, standing, or wearing certain types of shoes.
Q: Are bunions hereditary?
Bunions can have a hereditary component. If one or both parents have bunions, their children may be more likely to develop them.
Q: What are some non-surgical options for treating bunions?
Non-surgical treatment options for bunions may include using orthotic shoe inserts, wearing wider and more comfortable shoes, taking over-the-counter pain relievers, and applying ice to the affected area.
Q: When is bunion surgery recommended?
Bunion surgery is typically recommended when non-surgical treatment options have failed to provide relief, or when the bunion is causing significant pain or affecting mobility. The decision to undergo surgery should be made in consultation with a qualified podiatrist or orthopedic surgeon.
Q: What are the risks associated with bunion surgery?
As with any surgery, there are risks associated with bunion surgery, including infection, bleeding, nerve damage, and poor healing. However, these risks can be minimized by carefully following post-surgical instructions and working closely with your healthcare provider.
Q: Is bunion surgery always successful?
While bunion surgery has a high success rate, there is no guarantee that it will completely eliminate all symptoms. However, most patients report significant improvement in pain and mobility after the procedure.
Q: How can I prevent bunions from forming?
To prevent bunions from forming, it is important to wear comfortable shoes that fit well and provide ample support. Maintaining a healthy weight and engaging in regular exercise can also help keep the feet healthy and prevent the development of bunions.
Q: How long are you under anesthesia for complicated bunion surgery?
The duration of anesthesia for complicated bunion surgery can vary depending on the complexity of the procedure, the patient's individual factors, and the surgical team's approach. Typically, bunion surgery can take anywhere from 30 minutes to a few hours.
However, for more specific information about the anesthesia duration for your particular case, it's crucial to consult with your surgeon and anesthesia team. They can provide you with the most accurate estimate based on your specific circumstances.
Contact Us Today
Don't wait until your bunion worsens to seek help. If you're in pain, feel free to contact the Bunion Center of Excellence for an appointment with a board-certified podiatrist.
If you or someone you know is suffering from bunions, it's important to be aware of the potential complications that can arise. Share this informative article, "Bunion Complications: What You Need To Know," with your friends and family to help spread awareness and promote healthy foot care practices. Together, we can prevent and manage the complications of bunions and ensure a pain-free future for our feet!
See Also: