Are Dansko Shoes Good for Plantar Fasciitis?
Living with plantar fasciitis can be a challenging experience, as the condition often causes discomfort and pain in the heel and foot. It's essential to find suitable footwear that provides the necessary support and comfort to alleviate symptoms. Dansko shoes have gained popularity as a go-to option for individuals with plantar fasciitis. In this article, we will explore whether Dansko shoes are indeed good for plantar fasciitis, examining their features, benefits, and how they compare to other brands.
Before diving into the benefits of Dansko shoes, let's briefly understand plantar fasciitis. It is a common foot condition characterized by inflammation and irritation of the plantar fascia, a thick band of tissue connecting the heel to the toes. People with plantar fasciitis often experience sharp pain in the heel, stiffness, and discomfort, especially in the morning or after long periods of inactivity.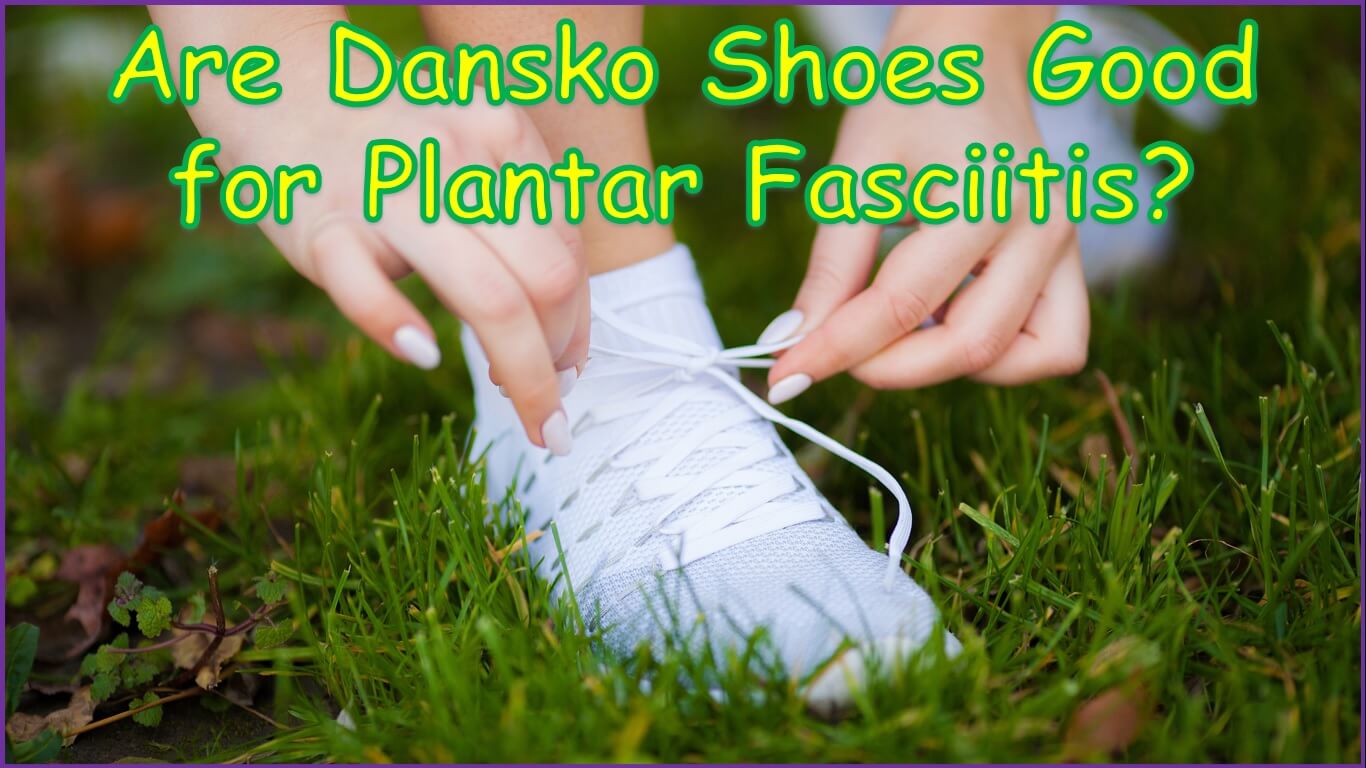 The Importance of Choosing the Right Shoes for Plantar Fasciitis
Selecting appropriate footwear plays a crucial role in managing plantar fasciitis. The right shoes can provide support, alleviate pain, and promote healing. Shoes that lack proper arch support, cushioning, and stability can exacerbate the symptoms and hinder the recovery process. Hence, it's vital to invest in shoes specifically designed for plantar fasciitis.
Dansko Shoes: An Overview
Dansko is a renowned footwear brand known for its quality craftsmanship and dedication to foot health. The company offers a wide range of shoe styles, including clogs, flats, sandals, and boots. Dansko shoes are made from premium materials and feature innovative designs that prioritize comfort and support.
Features of Dansko Shoes That Benefit Individuals with Plantar Fasciitis
Dansko shoes offer several features that make them suitable for individuals with plantar fasciitis. Let's explore these features in detail:
1. Support and Stability
Dansko shoes are designed to provide excellent support and stability to the feet. The sturdy construction and firm outsoles help maintain proper foot alignment, reducing strain on the plantar fascia.
2. Arch Support
One of the key advantages of Dansko shoes is their superior arch support. They often incorporate a contoured footbed with built-in arch support, which helps distribute weight evenly and relieve pressure on the plantar fascia.
3. Cushioning and Shock Absorption
Dansko shoes feature ample cushioning in the footbed to absorb shock and provide enhanced comfort. This cushioning helps reduce the impact on the heel and minimizes discomfort caused by plantar fasciitis.
4. Comfort and Fit
Dansko shoes are known for their comfortable fit. They offer a roomy toe box, allowing the toes to splay naturally, and a snug heel cup that prevents excessive foot movement. The adjustable straps or laces in some Dansko models enable a customized fit for individual preferences.
5. Style and Design
Dansko shoes combine functionality with style. They offer a variety of fashionable designs that cater to different tastes and occasions. From casual to professional settings, Dansko shoes provide options that are both comfortable and aesthetically pleasing.
How to Choose the Right Dansko Shoes for Plantar Fasciitis?
When selecting Dansko shoes for plantar fasciitis, consider the following factors:
Look for shoes with excellent arch support and cushioning.
Ensure a proper fit by trying on different sizes and styles.
Opt for shoes with a sturdy outsole for stability.
Consider the specific needs of your feet, such as wide or narrow width options.
Consult with a healthcare professional or a podiatrist for personalized recommendations.
Top 5 Best Dansko Shoes for Plantar Fasciitis:
1. Dansko Professional Clogs – best dansko shoes for plantar fasciitis
Discover the Dansko Professional Clogs—a timeless choice tailored for individuals with plantar fasciitis. Elevating comfort to new heights, these clogs boast a contoured footbed meticulously designed to deliver exceptional arch support, aligning your feet perfectly. Embrace the freedom of natural toe movement with the roomy toe box, while the innovative rocker bottom outsole gracefully alleviates stress on the plantar fascia. No compromises on stability here—the slip-resistant construction ensures steadfast footing, allowing you to conquer long hours with ease.
2. Dansko XP 2.0 Clogs
Step into the upgraded world of Dansko XP 2.0 Clogs, the epitome of refinement. These clogs redefine cushioning and shock absorption, courtesy of the dual-density EVA footbed and a layer of memory foam that indulges your feet with unparalleled comfort. Marvel at the fusion of style and support as exceptional arch support and stability accompany you through every stride. The slip-resistant outsole serves as your steadfast companion, offering unwavering traction in diverse work environments. Unlock the realm of possibility with these exceptional clogs.
3. Dansko Paisley Sneakers
Seeking an athletic style that doesn't compromise on support? Look no further than the Dansko Paisley Sneakers. Uniting sporty design with Dansko's renowned support, these sneakers effortlessly bridge the gap between fashion and functionality. Enjoy the luxury of all-day comfort with the removable triple-density footbed and its arch-supporting prowess. Fearlessly tread upon any surface with the slip-resistant rubber outsole, while the waterproof construction ensures versatility in every step. Embrace the active lifestyle without compromising on support and style.
4. Dansko Fawna Mary Jane Shoes
Elevate your footwear collection with the versatile Dansko Fawna Mary Jane Shoes—a delightful blend of style and functionality. Immerse your feet in the embrace of a contoured footbed that excels in arch support and cushioning, making it ideal for those with plantar fasciitis. Achieve a custom fit with the adjustable buckle strap, while the durable outsole provides stability and traction in every movement. From casual outings to professional settings, these Mary Jane shoes effortlessly embody versatility, ensuring you're prepared for any occasion.
5. Dansko Professional Antique Brown Oiled Clogs
Embrace rustic charm while finding solace in the Dansko Professional Antique Brown Oiled Clogs—a harmonious union of timeless appeal and plantar fasciitis support. Revel in the iconic contoured footbed, meticulously crafted to provide outstanding arch support and cushioning. The oiled leather upper lends an elegant touch, exuding sophistication at every step. With the slip-resistant outsole as your steadfast companion, you'll navigate diverse surfaces with poise and stability. Immerse yourself in a classic and timeless aesthetic with these remarkable clogs. [1]
Comparison of the Top 5 Dansko Shoes for Plantar Fasciitis:
| Shoe Model | Arch Support | Cushioning | Stability | Comfort | Style |
| --- | --- | --- | --- | --- | --- |
| Dansko Professional Clogs | Excellent | Moderate | High | High | Classic Clogs |
| Dansko XP 2.0 Clogs | Excellent | High | High | High | Upgraded Clogs |
| Dansko Paisley Sneakers | Excellent | Moderate | High | High | Sporty Sneakers |
| Dansko Fawna Mary Jane Shoes | Excellent | Moderate | High | High | Mary Jane |
| Dansko Professional Antique Brown Oiled Clogs | Excellent | Moderate | High | High | Rustic Clogs |
Caring for Your Dansko Shoes
To ensure the longevity of your Dansko shoes and maintain their performance, follow these care tips:
Clean them regularly using a mild soap and water solution.
Allow them to air dry naturally, avoiding direct heat sources.
Apply a leather conditioner or protector to preserve the quality of leather shoes.
Replace worn-out insoles or footbeds to maintain optimal cushioning and support.
Store them in a cool, dry place when not in use to prevent damage.
Alternative Shoe Brands for Plantar Fasciitis
While Dansko shoes have proven beneficial for many individuals with plantar fasciitis, it's worth exploring alternative shoe brands that offer similar features. Some popular options include Vionic, Brooks, New Balance, ASICS, and Ecco. Consider trying different brands to find the best fit for your feet and personal preferences.
Tips for Managing Plantar Fasciitis
In addition to wearing appropriate footwear, here are some tips for effectively managing plantar fasciitis:
Perform gentle stretching exercises for the feet and calves to improve flexibility.
Avoid walking barefoot or wearing unsupportive shoes around the house.
Use ice packs or take over-the-counter anti-inflammatory medications to reduce pain and inflammation.
Maintain a healthy weight to minimize stress on the feet.
Consider orthotic inserts or custom-made shoe inserts prescribed by a podiatrist for added support.
Conclusion: Are Dansko Shoes Good for Plantar Fasciitis?

Dansko shoes can be an excellent choice for individuals with plantar fasciitis, thanks to their supportive features, arch support, cushioning, and comfortable fit. However, it's essential to consider individual foot characteristics and preferences when selecting footwear. Remember to prioritize proper support, stability, and comfort to alleviate plantar fasciitis symptoms and promote overall foot health.
FAQs [Are Dansko Shoes Good for Plantar Fasciitis?]
Are Dansko shoes suitable for all types of feet?
Dansko shoes cater to a wide range of foot shapes and sizes, but it's crucial to try them on and find the right fit for your specific needs.
Can Dansko shoes completely cure plantar fasciitis?
While Dansko shoes can provide relief and support for plantar fasciitis, they are not a cure. They are part of a comprehensive approach to managing the condition.
Are Dansko shoes only available in clog styles?
No, Dansko offers various shoe styles, including clogs, flats, sandals, and boots. You can choose the style that suits your preferences and needs.
Do Dansko shoes require a break-in period?
Some individuals may experience a break-in period with Dansko shoes due to their sturdy construction, but the majority find them comfortable right out of the box.
Where can I purchase Dansko shoes?
Dansko shoes are available at various retail stores and online platforms. Check the official Dansko website or authorized retailers for authentic products.
We hope you found this article on the best Dansko shoes for plantar fasciitis informative and helpful. Now, we'd love to hear from you! Share your thoughts, experiences, or any additional tips in the comments section below.
If you know someone who could benefit from this information, don't keep it to yourself! Spread the knowledge by sharing this article with your friends, family, or anyone dealing with plantar fasciitis. Together, let's help others find the right footwear for their foot health.
Remember, your comments and shares can make a difference in someone's life. So, let's engage, support, and create a community of individuals striving for comfortable and pain-free feet.
See Also: